ACCREDITATION
COMPLIANCE
PATIENT SAFETY
Helping healthcare organizations integrate
requirements and initiatives into daily activities.
PATTON PRODUCTS & SERVICES
Our industry leading experts are here to guide, educate, and support your organization.
Our Patton Products & Services were developed with you in mind, so we can help you achieve success!
WHY CHOOSE PATTON?
OUR PROMISE
To simplify the many complicated challenges of accreditation and regulatory compliance so your organization can deliver safe and compliant patient care!
OUR TEAM
Patton's world-class team of experts come with extensive administrative, clinical, regulatory, quality, Joint Commission, and CMS experience!
OUR CLIENTS
By facilitating in successful survey outcomes, some of the country's largest, most prestigious hospital and healthcare systems ranked top in the country by U.S. News & World Report, trust us for their continued support.
PATTON PRINCIPALS
Excelling in getting the help you need, when you need it.  Meet our executive team!

RESOURCES
Keeping up with the ever-changing healthcare field is hard to do when you have an organization to run, so we do it for you!
Taking news from The Joint Commission, CMS, and more, we keep you updated.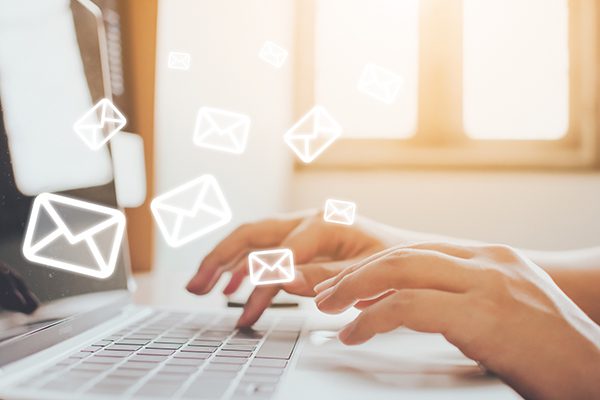 Patton Post Newsletter
An industry leading newsletter distributed to thousands of readers on a monthly basis.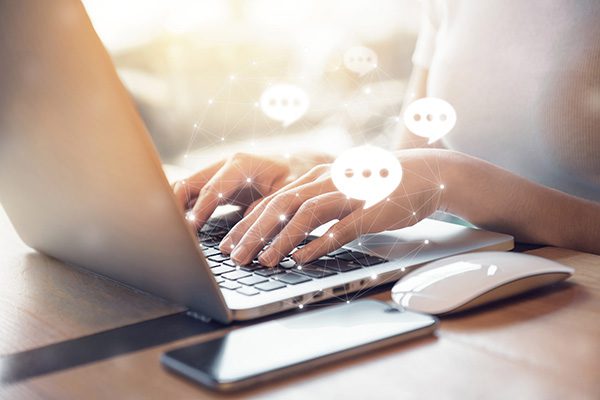 Patton Blog
Regularly published posts of top announcements and updates on a weekly basis.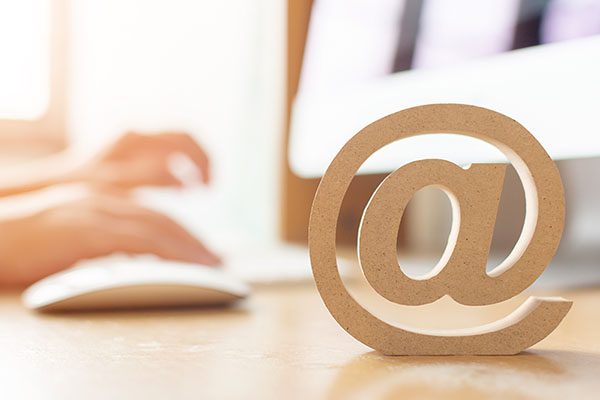 Additional References
Free compliance and tracer tools, links, and other resources at the ease of a click!
ENGINEERED SOLUTIONS
Proprietary software technology carefully designed and developed with patient safety and your success in mind.
Patton Portal
Our Continuous Accreditation Support (CAS) Clients' individualized and secure access to the Patton Portfolio — your central station in staying informed and current with some of the best tools available.  Use them as-is or customize them for your ongoing readiness efforts.
Join our CAS program to view our Portfolio of hundreds of tools and resources!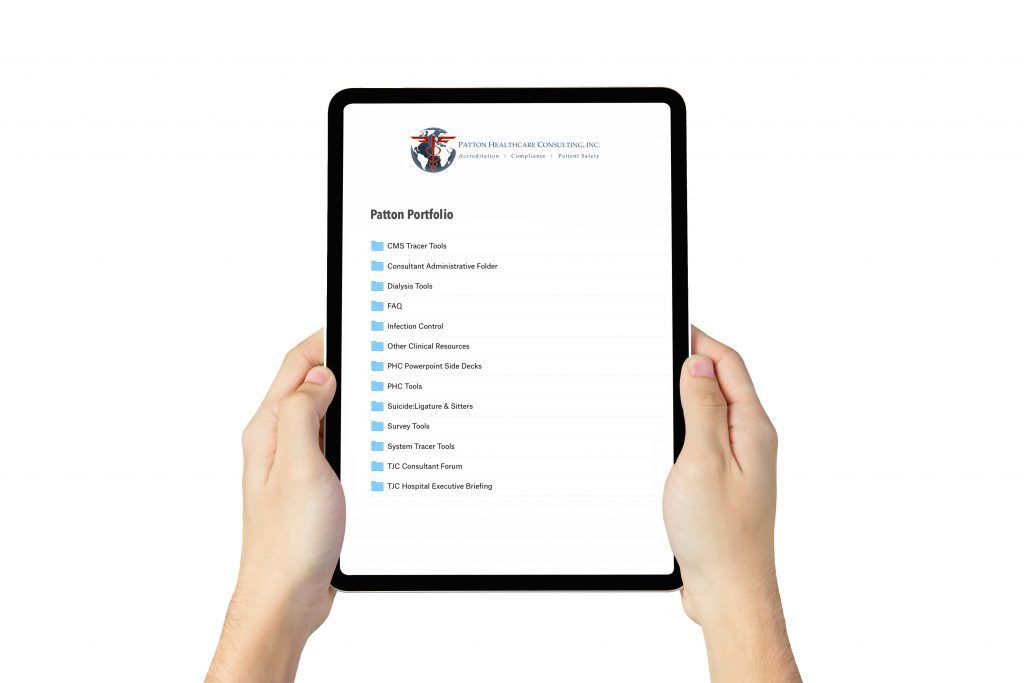 Report of Findings
Delivered in a timely fashion, our final report was created to simplify the after-survey process.  Color coding by a safety risk matrix approach helps identify risk areas by severity.  Provided in both PDF and Excel file formats, you receive a presentable report for leadership and a ready-to-use workplan to assign and track corrective action.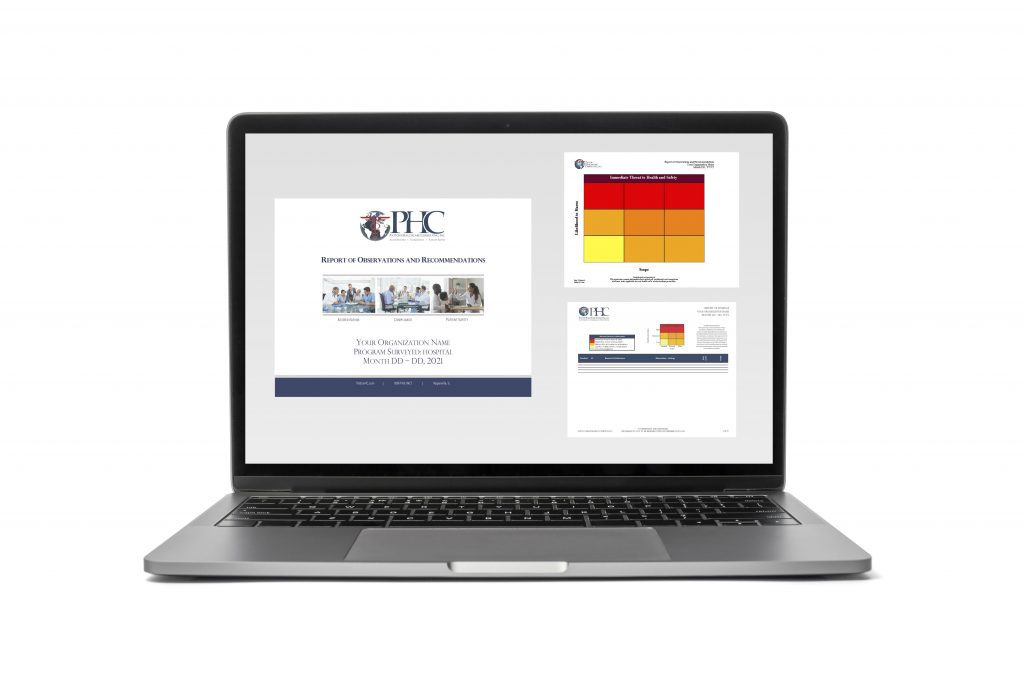 WHAT OUR CLIENTS SAY
It was our honor to have your team survey our hospital.
It was our honor to have your team survey our hospital. Their expertise was invaluable and we look forward to reviewing this report and implementing corrective actions.
Thank you again for everything you did leading up to, as well as during and after survey – your support has been tremendous!
…
Community Hospital
Accreditation Program Manager
Mar 8, 2021
…This is exactly what we wanted…
…This is exactly what we wanted… He is incredibly knowledgeable and was a pleasure to have in our facility for 4 days. Thank you!
Behavioral Health Organization
General Manager
Mar 8, 2021
…a great survey result
…a great survey result and we are 3 for 3 in surveys post mocks with no adverse findings!!!! Thanks
Teaching Hospital System
Executive Director of Accreditation
Mar 8, 2021
….impressed by how consistently succinct, accessible and reliable your newsletter is
…For many years I have been an avid follower of Patton Consulting and I'm impressed by how consistently succinct, accessible and reliable your newsletter is. In fact, when I meet with new leaders in my organization, I tell them 'if you only have time to read one thing per month related to regulatory is…
Urban Hospital System
Respiratory Neonatal and Pediatric Specialist, Patton Post subscriber
Mar 8, 2021
Outstanding Surveyors
…We're certain you've heard this many, many times – but you are outstanding surveyors and having the opportunity to learn from your incredible expertise was an experience that has been beyond words.
Your knowledge, willingness to share recommendations and best practice, as well as your ability to make staff feel at …
Teaching Hospital
Quality Director
Mar 8, 2021
…I have enjoyed working with you very much.
Patton goes on my very short list of vendors that I have thoroughly enjoyed during my 40 year career…
National Hospital/Ambulatory Network
SVP/Chief Clinical Officer
Feb 8, 2021
Many thanks for the work you and your team does!
I would be remiss if I didn't send you a note to let you know how stellar our 2 day mock survey went… Because of this visit we have the CEO buy-in to help hold managers accountable for their areas which in turn will lead to a much more successful survey, even having a special leadership meeting next week…
Surgical Hospital
AVP Quality and Accreditation
Mar 8, 2021
…I was very pleased with the remote survey experience…
…I was very pleased with the remote survey experience… [it] exceeded my expectations and I think that it was effective in not only identifying issues, but also giving staff the experience with a virtual process, that may indeed become more of the future reality.  Thank you
Urban Teaching Hospital
VP, Quality and Regulatory Affairs
Jan 19, 2021
…FANTASTIC!
…FANTASTIC! Everyone just LOVED her and the staff response to her was delightful. So knowledgeable, so helpful and approachable, it was a VERY productive and effective review for us! PLEASE send her back… Thanks
Community Hospital
Director of Quality
Jan 19, 2021
I want to thank you so much for the team provided to us.
I want to thank you so much for the team provided to us. They were a wonderful team to work with, their knowledge and expertise was so evident daily in all Tags and findings they worked on. They truly became part of our team wanting to be there and see it through to the very end. We also enjoyed them persona…
National Hospital System
VP Quality and Regulatory
Mar 8, 2021