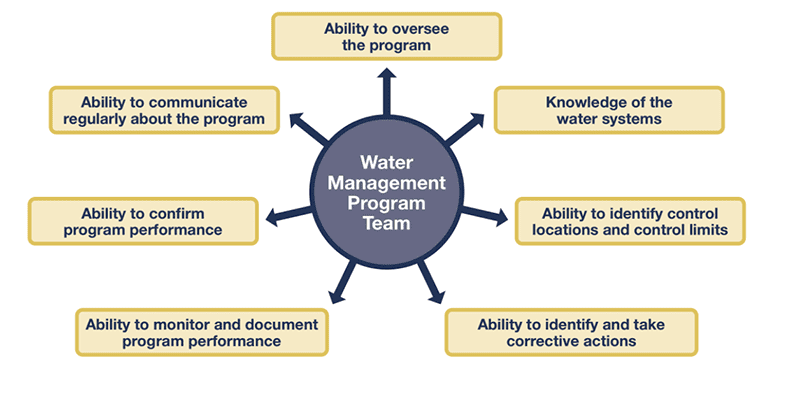 Have you been implementing the CDC and ASHRAE water management requirements? If so, then you should be well prepared. But, if you haven't… you will want to pay attention to this!
Water Management Requirements
There is a new set of standards that Joint Commission has created to score water management requirements and you should familiarize yourself with the new standard EC.02.05.02 and its four elements of performance.
While most of these requirements have been previously scored in generic or catch-all standards, there is now a specific spot for them to score on it.
EP 1
EP 1 requires the organization to appoint an individual or team to provide oversight and implement water management activities. The CDC provided this diagram detailing the skills and requirements for your team or leader.
EP 2
EP 2 details what the individual or team is supposed to do, and this includes:
Create a basic diagram that maps all water supply sources, treatment systems, processing steps, control measures, and end use points.
Create a water risk management plan based on the diagram that includes an evaluation of the physical and chemical conditions of each step of the water flow diagram to identify any areas where potentially hazardous conditions may occur. (e.g., slow or stagnant water). TJC suggests here that organizations refer to the CDC's Water Infection Control Risk Assessment (WICRA) for Healthcare Settings tool.
A plan for addressing the use of water in areas of the building where water been stagnant for a period (e.g., during temporary closure).
An evaluation of the patient populations served to identify patients who are immunocompromised.
Monitoring protocols and acceptable ranges for control measures (e.g., temperatures, pH, disinfectant levels, locations to measure, and required corrective actions).
EP 3
EP 3 requires the team or individual to manage:
Documentation of all results of monitoring.
Corrective actions and procedures if a test result is outside acceptable limits, including when a probable or confirmed waterborne pathogen indicates action is needed.
Documenting corrective actions when control limits are not maintained.
EP 4
EP 4 requires an annual evaluation of the water management program and whenever the following occurs:
Changes have been made to the water system that add risk.
New equipment or at-risk water system has been added that would generate aerosols or be a potential source of legionella. This includes commissioning of a new wing or building.
These new standards are to be implemented in January 2022.
Patton Healthcare Consulting
Our large bench of clinical surveyors come with extensive Joint Commission experience and expertise. Contact us today so we can help you remain in compliance! January 2022 is going to come fast!